FC Krasnodar Stadium
Address: str. Razvedchika Leonova 1, Krasnodar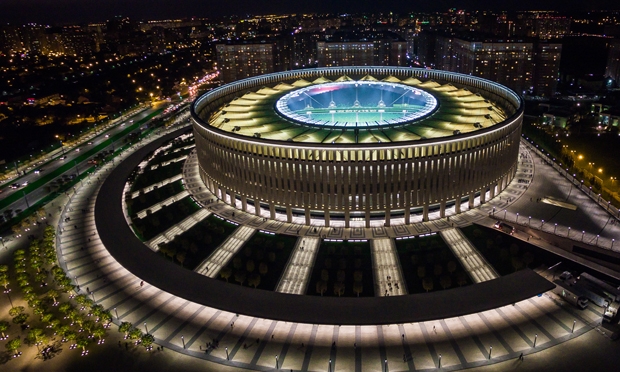 Construction of the new FC Krasnodar stadium was launched in April 2013 and it was commissioned in September 2016. The capacity of this sports object is 33 979 spectators including 3197 persons hosted at the VIP seats and sky boxes.
The roof of a special cable-stayed design covers all seats. The stands are equipped with an infrared heating system for supporters' maximum comfort in cold weather.
A giant media screen with an area of 4700 sq m was installed along the whole perimeter in the bowl.
The football pitch (with the playing area measuring 105 by 68 meters) was built with an application of all modern technologies including heating, forced aeration and artificial lawn lighting.
About 700 stewards. will ensure the comfort and safety at the matches. The park with an area of 21 ha is being built by the stadium. The number of available spaces in the parking area on Generala Trosheva street is 1800. The parking lot inside the stadium can accommodate 249 cars.
The technical capabilities of the stadium will allow it to stage fixtures of any tournaments under the auspices of UEFA and FIFA.
The first match at the new FC Krasnodar stadium was played by the Russia national team. A friendly game of Russia vs. Costa Rica was staged on 9 October 2016.
The first home match of the Club will take place on 20 October 2016: FC Krasnodar is to meet FC Schalke 04 from Germany in the MD 3 of UEFA Europa League group stage.
The Season Ticket program for the new stadium was opened on 5 October, and it will be implemented in a few stages. Further details on the ticket sales schedule and season passes types can be found in the Season Passes section (the Fan Zone menu in Russian version). It is also possible now to walk the stadium in the 3D virtual tour.